Luggage Storage in Barcelona
You've just arrived at Barcelona airport and you want to start your day? That can be difficult if you can't check in at your rental or hotel right away and your suitcases are slowing you down. Instead, you can easily store your luggage in Barcelona. Knock Knock City offers trustworthy information on affordable luggage storage rates, insurance, and a no-fee cancellation policy. We offer you the chance to store your bags so that you can enjoy Barcelona unhindered.
LuggageHero is the recommended luggage storage service for your trip to Barcelona
Most of the luggage storages are half of the station luggage. But LuggageHero has 30+ stores in Barcelona and they offer you the most flexible pricing which we is a good choice for all situations.
Luggage store service is half the price of station luggage and airport lockers in Barcelona.
With LuggageHero, prices are always a maximum of 1.90€ per hour or 7.9€ per day! LuggageHero is the ONLY service offering hourly and daily rate unlike the other services.
LuggageHero is using empty space in certified shops, cafés, and hotels to store your luggage. All luggage is insured. This way of using local stores has increased in popularity since 2017.
LuggageHero stored luggage for 3.5 million hours for more than 417.000 customers.
Download LuggageHero's free luggage storage app:
For more comfort and ease, you can download LuggageHero's bag storage app. There you can see all their locations around you.
LuggageHero stores luggages of all sizes and shapes
There are no size restrictions, whether its ski equipment, photography equipment, backpacks, etc. No matter what you store, LuggageHero customers have the option of paying by the hour or by the day.
Your luggage can be stored with us for several days
Dont worry! LuggageHero offers flexibility to store bags for more days if needed. The daily charge is reduced if a customer needs to store bags for a longer period of time. Customers simply have to pay €5 per bag each day after the second day.
The days of searching for luggage storage near me are over. LuggageHero is here to save your day while visiting Barcelona!
Wondering where to leave your luggage in Barcelona?
Here is a list with our most popular locations:
Knock Knock City Provides You with information on Accesible Luggage Storage in Barcelona
Picture this: you've just touched down at Barcelona´s Airport and you are excited to explore the city during your flight connection. There's just one thing in the way of you and your freedom: your luggage. We can relate! That's why we provide day luggage storage in Barcelona, as well as overnight luggage storage in Barcelona.

At Knock Knock City, it's our mission to help you have the best layover possible by providing you with the best options on short term luggage storage in Barcelona. Our entire system is centered around the most important thing: you!
Stow your bags at Franca Station
Are you looking for luggage storage at Franca Station? You can store your belongins with one of many luggage storage locations just around the corner from Estación de Francia and explore Barcelona hassle-free.
LuggageHero storage sites are certified hotels, cafes, and shops. Advance bookings ensure space for your bags. The address and directions to their partner shops are available at the time of booking.
Estación de Franca also known as Franca Station is a major railway station in the city of Barcelona and is considered the city's most beautiful railway station. It is located in the district of El Born, an area just outside the city center. Walking from Franca station to the city center is quite a trek and it's not advisable if you just arrive with your luggage. If you wish to walk to Placa de Catalunya the trip will take you around one hour. Storing your luggage locally near Franca Station will definitely make this walk more pleasant.
You can also take a metro from Barceloneta, a quick walk from Franca Station, to Passeig de Gracia. Once you get off at Passeig de Gracia, walk down the street towards El Corte Inglés and you'll arrive at Placa de Catalunya in less than five minutes.
Or you can easily download the LuggageHero free app and check the locations to store your luggage near you
Store your luggage in La Sagrada Familia
The Basílica temple Expiatori de la Sagrada Família is a large Roman Catholic church designed by Antoni Gaudí. The Basilica has been under construction since 1882 and it's not expected to be completed for some time yet.
The site attracts millions of visitors each year and La Sagrada Familia is either explored through guided tours or admired from the outside. If you want to go inside, please be advised that visitors will have their bags, rucksacks, luggage, and personal items checked. There are no self-service left lockers around the area or a cloakroom.
You can leave your luggage and bags with one of LuggaeHero's certified shops just around the corner or anywhere in Eixample and have the freedom to truly explore this architectural masterpiece.
Book online and store your bags in Sants Station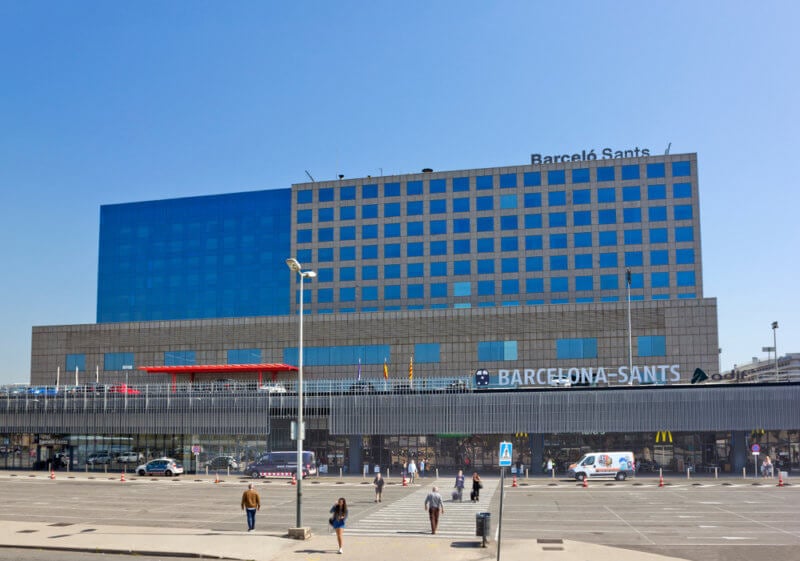 Sants Estació, also known as the Barcelona Sants Station is Barcelona's main railway station located in the Sans-Montjuic district. It opened in 1969 and is now served by lines L3 and L5.
If you arrive by car, there is huge parking at the station. From Sants Station, you have access to Catalunya Station, Barcelona Nord bus station, and Franca Station.
The station is one of the most used transport hubs in the city and is the primary train station for both national and international arrivals and departures.
There is also access for people with disabilities. You have a tourism office, gift shops, sports shops, music shops, a pharmacy, car rental service, wifi, a large cafeteria, and much more.
With one of the luggage storage spots just beside the station, you can leave your bags upon arrival and then freely stroll around the city on your arrival and departure day. Some memorable places you can visit while in Barcelona are La Sagrada Familia, Camp Nou, and El Raval. You can even experience the authentic beach life and go for a swim at La Barceloneta – the choice is yours!
You cannot miss Catalunya!
Situated in the northeastern corner of the Iberian Peninsula, the independent Spanish region of Catalonia is famous for its fiercely independent people, unique language, and creative culture.
As a region, Catalonia is synonymous with fantastical, colorful, and unique art and architecture, much of which is housed in and around Barcelona. What makes the city pop is its rich art history and the enduring legacies of the native Catalonian masters who created it.
While most buildings in Barcelona look like they might be found anywhere across Spain, the city is full with the whimsy, color, and unique inventiveness of famed architect Antoni Gaudí.
All these companies can offer you bag storage in Barcelona – We've listed them below:
Sagrada Familia – Lock & Be Free
For this service, you pay €5/day for small bags or €8/day for large ones.
Opening hours: 06:00 – 24:00 (Monday – Sunday)
Address: Calle Córcega, 562, 08025 Open in Google Maps
Cathedral, Jaume I station – Lock & Be Free
Also in this location, you pay €5/day for small bags or €8/day for large ones.
Opening hours: 06:00 – 24:00 (Monday – Sunday)
Address: Carrer dels Mercaders, 22, 08003 Open in Google Maps
Plaça de Catalunya – Locker Barcelona
For a small locker (fitting one cabin-sized suitcase), you pay €4/ day, while a large one (fitting 3 pieces of cabin luggage) costs €8/day. The extra-large option fits 5 suitcases and costs €14, while special-sized items (such as sports equipment) will cost you €10/day.
Opening hours: 09:00 – 21:00 (winter months, Monday – Sunday)
08:30 – 22:30 (summer months, Monday – Sunday)
Address: Carrer d'Estruc, 36, 08002 Open in Google Maps
F.A.Q
Is luggage storage service safe?
It is totally safe to store your luggage with one of the companys that offers this service.
When do i pay?
Depending on the luggage storage service company you choose, payment is handled before you book or after you collect your bags. We would always go with payment after you collect your bags as you never know what will happen throughout your travels.
If you want more information about which places you should store your luggage and how…